When you're building a new home, it's important to strike a balance between a trendy home design and timeless materials. Knowing which trends are sought after by home buyers and which timeless materials can improve your home's value can help you design the perfect new home.
Most of all, it's important to work with a home builder that can help you weigh the pros and cons of all the potential home features you're considering. By consulting with the expert and by doing your research, you'll be able to build a home that you'll love for many years to come.
Do Your Research
Before starting the process of building a new home, it's important to do research. Below are topics you'll need to know about and explore before contacting a home builder.
Explore New Materials
New materials are constantly coming onto the market that improve homes and make life easier for homeowners. Some examples of recent innovations in custom home materials include:
Quartz - Quartz is a mixture of resin and crushed stone. This countertop material looks just like natural stone, but it's stronger, more durable, and needs less maintenance. This material has recently become the most popular countertop material found in kitchens.
Composite decking - Composite wood is a popular decking material that needs no refinishing and lasts longer than standard wood. This material has become far more popular than pressure-treated wood and options like redwood.
Laminate flooring - Although hardwood flooring is still incredibly popular, laminate flooring and other hardwood alternatives are popular among homeowners who want the look of hardwood without the maintenance. Laminate flooring is also water-resistant, making it a great option for families with pets and young children.
While traditional materials are popular for a reason, newer materials have evolved making them long-lasting and easier to maintain. While they may be more expensive up front, the long-term payoff makes them worth considering.
Know the Trends
When you're building a new home, it's helpful to know what trends are on the rise, and which trends are on their way out. For example:
White kitchens: White kitchens have been a popular home feature for many years and for good reason. By starting with a neutral base, you have the option to update your kitchen throughout the years by incorporating splashes of color via backsplash, painted walls, and even floors.

Open layouts: Open layouts have been trending for year and they don't seem to be going away any time soon. Open layouts give homeowners flexibility and enable homeowners to spend time together while also working on separate activities. Open layouts are also popular among homeowners who enjoy entertaining, often opening kitchens with large islands into other living spaces like the living room or playroom.


Use of the color gray: Gray is tasteful, attractive, sophisticated, and it goes with everything. However, this trendy color has been used so extensively in home décor that some homeowners now turn to gray alternatives like brown and greige.
Open shelving: Open shelving has been popular for years and remains popular in rooms like the kitchen and bathroom, where creative storage can make the room more attractive.
Incorporate Timeless

Home Design

and Materials
Natural materials have timeless appeal that homeowners love. You can't ever go wrong using materials like wood and stone, because these materials last for years. You don't have to use these materials in every room of the house to get the full benefit, just put these materials in places where they're noticeable to guests and buyers.
Your new home builder will likely propose a mixture of modern materials and timeless materials throughout your home. Your builder has been through many selections processes, so go ahead and ask them what they have seen that works in other homes to find the perfect mixture of modern and traditional design.
Explore Homes, Seek Ideas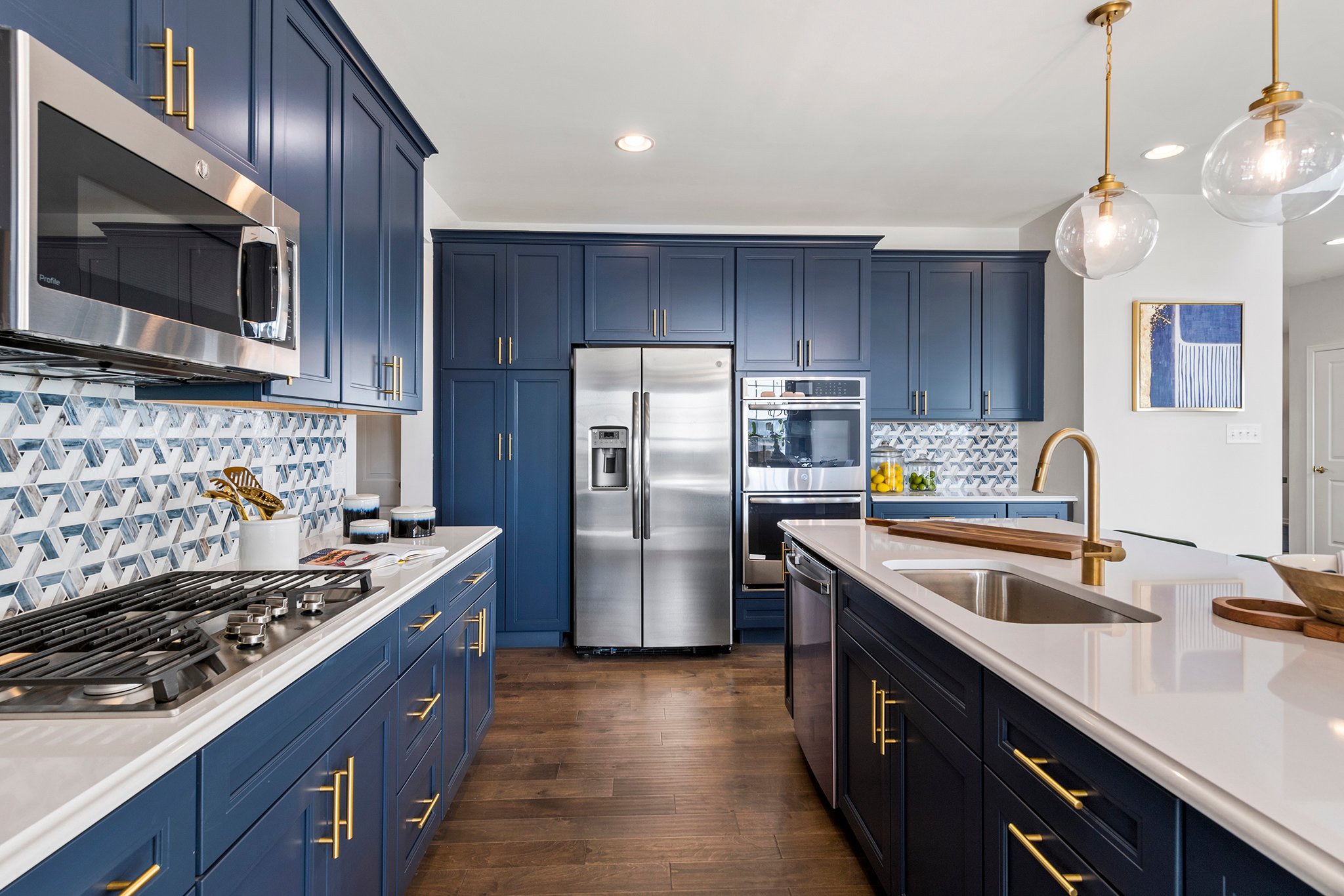 Decide which materials you like best by exploring pictures of homes and by touring homes available for sale. Visiting showings and open houses for homes on the real estate market can help you make smart decisions in your own custom-built house. By seeing home design choices in action, you'll be able to decide which trends you like best, and why.
Discuss Your Goals with Your Home Builder
If you're building a new home, work with your home builder to get material and design recommendations. Your home builder will know which materials are most popular at the moment and why - and which materials are problematic.
A good home builder will be able to guide you in the direction of the most popular materials and will help you decide which materials are most likely to add value to your home.
Build the Home that's Right For You
Ultimately, it's important to design a home that works for you. Unless you're planning to sell your home sometime in the near future, the style and materials that you choose should be designed for your needs and your preferences.
Work With an Experienced Home Builder
It's very important to work with an experienced home builder when you're designing your custom home. Contact Blenheim Homes to learn more about how you can design a house with the perfect mixture of modern and timeless home design.