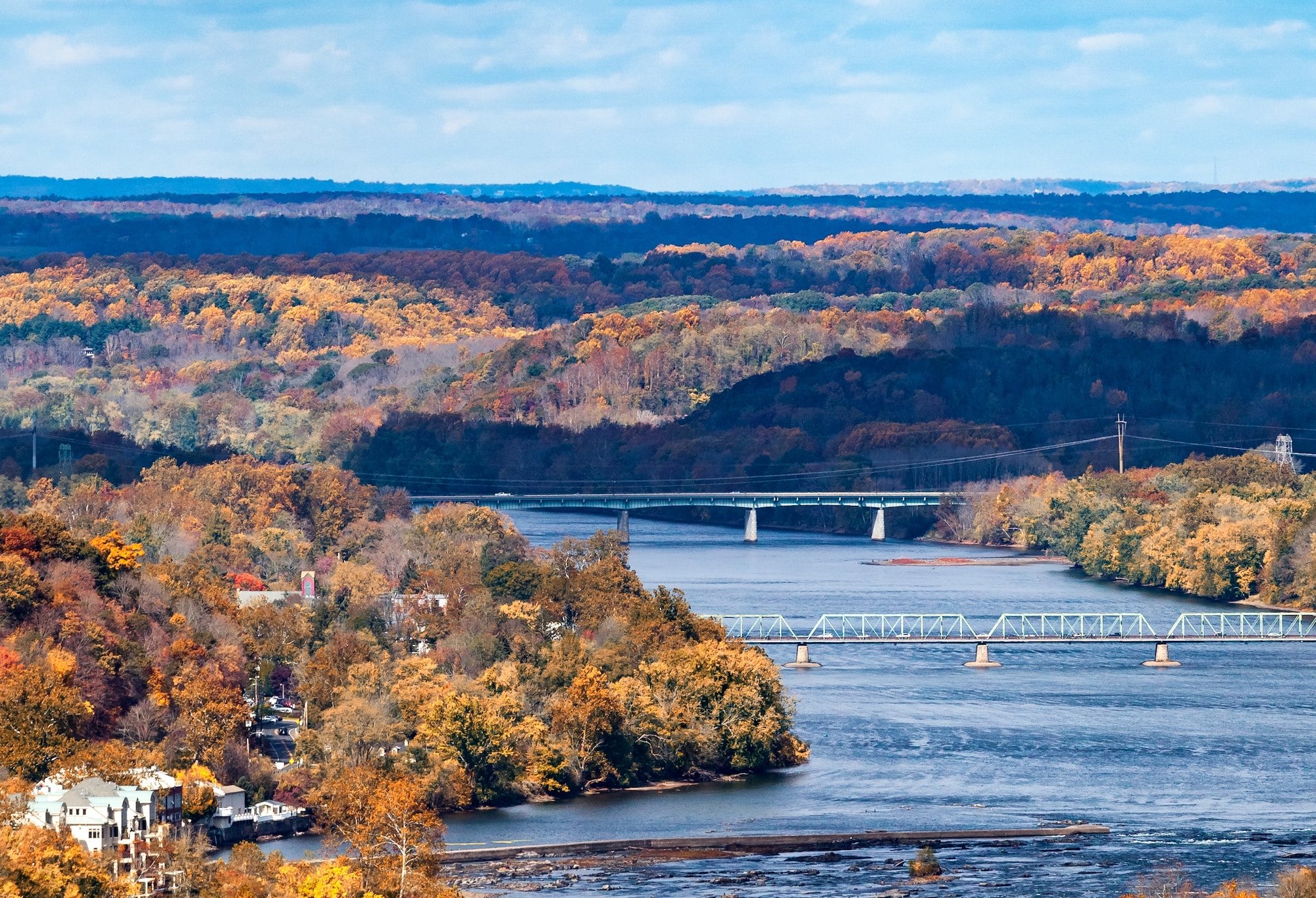 With the summer months drawing to a close, most of us have already taken our major trips for the year and are saving any remaining vacation time for the holidays. But while getting back into a routine has its own joys, there's always room for a weekend or day-trip getaway to explore and relax. We've handpicked our favorite Delaware locations for your mini fall vacation to keep your travel bug happy!
Hotel Rodney
Hotel Rodney makes almost every list of great getaways in Delaware. Built in 1926, this boutique hotel is full of character. While all of the rooms have been completely renovated, the building retains and celebrates its historic architecture and design, including hardwood floors and marble-tiled bathrooms.
While staying at Hotel Rodney, be sure to walk the streets of downtown Lewes, a quaint and charming city full of delicious restaurants like Nectar, Kindle, Honey's Farm Fresh Gourmet Kitchen, Heirloom, Half Full, Mr. P Pizzeria, Surf Bagel and Deli, and more. Lewes also offers plenty of opportunities to get a head start on your Christmas shopping with a variety of unique stores like Kid's Ketch, Tanger Outlets Rehoboth Beach, Heritage Antiques, PUZZLES, Sand N Stones, and more.
The Bellmoor Inn and Spa
Located in Rehoboth Beach, The Bellmoor Inn and Spa is the perfect place to relax, rejuvenate, and add a little luxury to your life. Their recently renovated guest rooms are at once spacious, elegant, and comfortable, and many offer patios, balconies, and even private yards with beautiful garden views in addition to standard amenities. For a little extra opulence, consider reserving one of The Bellmoor's uniquely styled suites, some of which offer multiple bedrooms, full kitchens, hydrotherapy bathtubs, and gorgeous views.
Wherever you're staying, you'll want to take advantage of The Bellmoor's beach spa! This spa has it all, from CDB oil massages to traditional Swedish body massages, stone massages, de-stress massages, sports/deep tissue massages, couples massages, reflexology, bamboo fusion massages, prenatal massages, facial and skin exfoliation treatments, waxing, and manicures and pedicures.
Even though you'll be tempted to relax in your luxurious accommodations for the duration of your stay, there's plenty to do in the surrounding area. Be sure to check out Rehoboth Beach Boardwalk, local brewery and wine tours, nearby golf courses, great shopping, and state parks and trails. There are a variety of fine dining options both in the hotel and in the surrounding area as well. The Bellmore Inn and Spa has it all--there's a reason it was voted the best designed hotel in Delaware!
The Bay Resort
With affordable specials and packages and direct access to Dewey Beach, The Bay Resort is perfect for a family getaway. If it seems counterintuitive to enjoy a beach vacation during fall rather than summer, that's exactly why you'll want to go: the high point of tourism will be over, but warm-water activities can still be enjoyed through September and into October, and the beach will likely be a little more private.
If you're able to make it to The Bay Resort in early fall when the weather is still warm enough, you'll definitely want to take advantage of the vast variety of water sports like kayaking, stand-up paddle boarding, jet skiing and boat rentals, surfing, fishing, and more. After a day of play outside, the area's fresh seafood restaurants will be even more appealing. View The Bay Resort's special and packages to find the offer that best suits your needs.
The Lazy L Bed and Breakfast
The Lazy L Bed and Breakfast is the ideal mini vacation destination if you need to "just get away from it all." Surrounded by beautiful rural woods, you'll have plenty of opportunities to explore the outdoor beauty of Delaware. You're welcome to borrow the B&B's kayaks for a scenic paddle while you stay. And best of all, you're welcome to bring your dogs along, too!
Cape Henlopen State Park
Looking for an opportunity to escape to nature? Cape Henlopen State Park provides recently renovated campgrounds with 20 walk-in tent sites and 12 camping cabins. Their campgrounds include 2-point hookups, most sites include 100-amp service, and some of their sites are also suitable for larger rigs. Their cabins have two rooms and offer a fire ring great for cooking hotdogs, s'mores, etc. Cabins also have access to an outdoor spigot and a communal bath house.
The campground is surrounded by maritime forests and is also very close to the beach, so you'll have plenty of paths to walk and varied terrain to explore. Visit their registration page to secure your spot and learn more about the park.
Harvest Ridge Winery
You don't have to block off a full weekend of your schedule to enjoy a little rest and relaxation while exploring a new part of Delaware. Our suggestion? Take a day trip to the highly-rated Harvest Ridge Winery in Marydel. The winery is open to visitors Sunday through Thursday from 12:00 PM to 5:00 PM and Friday through Saturday from 12:00 PM to 8:00 PM. Harvest Ridge Winery is a family-run business, and while they opened their doors six years ago in 2013, they've been making their own wines since 1995.
While you're in the area, tour the nearby Pizzadili Vineyard and Winery just 22 minutes away. Pizzadili is open every Monday through Sunday from 12:00 PM to 5:00 PM, and you can view wine tasting prices on their website. The vineyard is home to over 12 different grape varieties, allowing the Pizzadili brothers, Pete and Tony, to craft a wider variety of unique wines.
Day Trip to See the Colors
As Delaware natives know, fall is one of the most beautiful seasons on the East Coast, and it's not too early to start planning a trip to see the colors! Prime viewing time for the changing of the leaves is generally mid to late October, according to visitdelaware.com. While there are several spots to see the colors, some of the best include the Brandywine Valley National Scenic Byway, Delaware Outdoor Trail, Mt. Cuba Center, Lums Pond, Killens, Pond, and Trap Pond.