We all know Delaware is one of the east coasts favorite retirement destinations and communities like The Ponds at Bayberry in Middletown, a 55 and better community with homes starting from the $280's, make it clear why. Resort-style amenities and on-lot maintenance allow residents to enjoy a full and rewarding retirement after years of hard work and the established social scene within the community is both active and vibrant. From tree-lined walking trails to award-winning homes, The Ponds at Bayberry promises to set the backdrop to a wonderful new chapter in your life.
And the star of the show, where friendships are formed at community cocktail parties and relationships are deepened during evening fireside chats, is the 10,000 square foot Luxury Community Clubhouse. Allow us to show you around!
Indoor Features
At the heart of The Ponds is the 10,000-square-foot social center, exclusively for members of The Ponds community. Overlooking a private pond and walking trail, the clubhouse offers Ponds residents a space to relax and mingle with their neighbors. Inside, there's ample room to relax in a beautiful, state-of-the-art facility with designated spaces for all your favorite activities. You're invited to take a virtual, 3D tour and view pictures of our Clubhouse amenities. Some of the rooms you'll see include: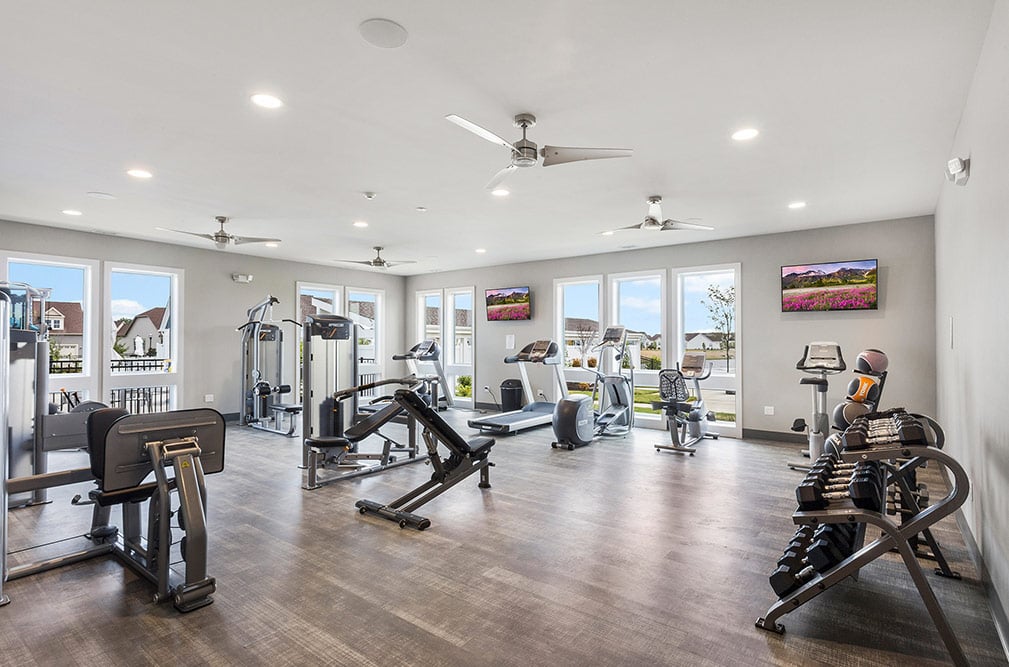 Fully-Equipped Fitness Center: At The Ponds, there is not need to join and gym and drive across town to get a workout in; everything you need is right in your neighborhood. In addition to miles of walking and biking trails, the fitness center at the community clubhouse is fully stocked with the best equipment and is open around the clock, meaning you can get a great workout in at any hour of the day. The gym is open, bright, and clean, with full-length windows welcoming in the beautifully landscaped outdoors. From treadmills and ellipticals to free weights and mechanical weights, the clubhouse gym is fully equipped to enable you to get in your cardio while targeting core muscle groups for improved strength, stamina, balance, and agility.
Aerobics Room: Many of us like changing up our workout routine by taking group fitness classes, and the on-site aerobics room at the 55+ Clubhouse makes this possible! Classes, like weekly yoga, are for Ponds residents only, allowing you a great opportunity to bond with your neighbors while also improving your health.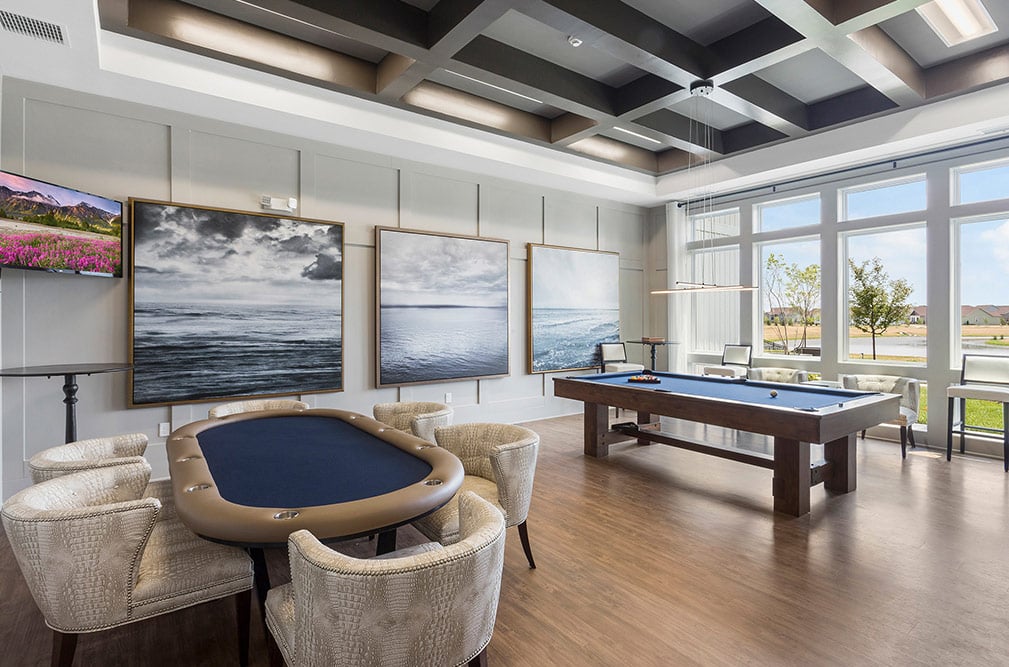 Billiards and Card Room: While The Ponds at Bayberry is a haven for adults with an active lifestyle, resident enjoy the opportunity to play together just as much as they work out together! Head over for a came of poker with the boys, join the canasta club or brush up your pool skills in the billiard and card room at the clubhouse!
Catering Kitchen and Bar: The social calendar at The Ponds at Bayberry is packed full of fun events all year round and the catering kitchen and bar inside the clubhouse provides a pristine and well-equipped prep area for these important functions. On the front end, comfortable barstool seating where you can enjoy sharing food and drink with your community has been specifically designed as a central gathering place.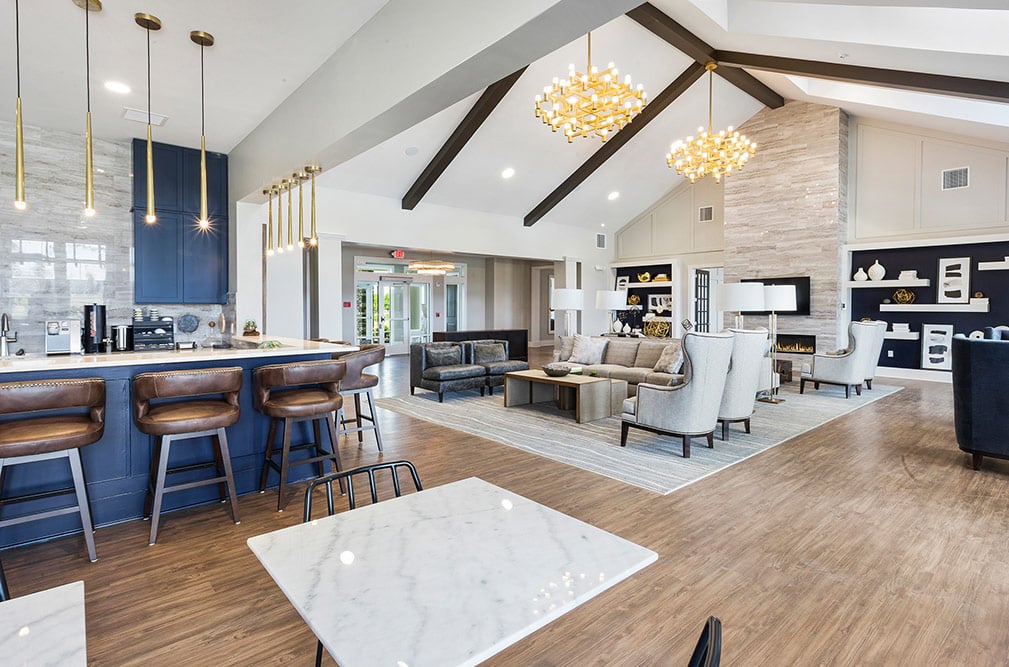 Community Lounge: At The Ponds at Bayberry, you don't have to have a special reason to get together with your neighbor other than the joy of friendship, and our community lounge is an acknowledgement of that value. Drop in any time of the day to chat with your neighbors or just get out of the house and find a beautiful spot to read a favorite book.
The Ballroom: The Clubhouse ballroom is the center of many special and seasonal community events. From summer time luaus, to Oktoberfest celebrations, to private events, the ballroom connects to the catering kitchen and bar and even has it's own bathroom facilities separate from the main restrooms. With soaring ceilings, a large space and existing tables and chairs it is easy to see why the ballroom is home to the biggest and best events at The Ponds!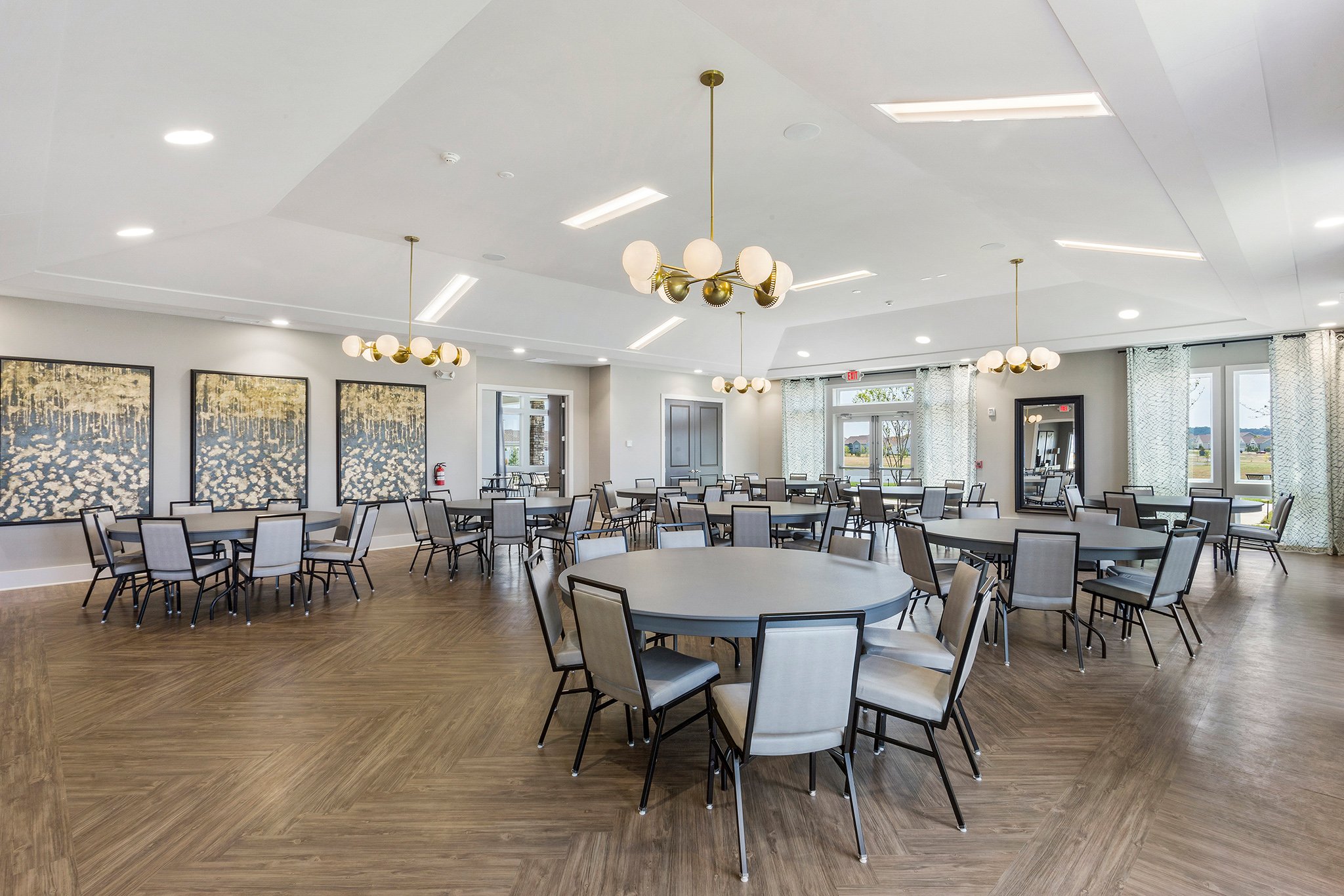 A Multipurpose Room: Our multipurpose room is a comfortable "flex" room just for our community gatherings. When you become a part of our community, you'll receive invitations to an array of special activities, arts and crafts sessions, etc.
Outdoor Features
Because the resort-style amenities cannot be contained to the clubhouse structure alone, the outdoor features provide a luxury escape for all residents.
Outdoor Pool and Self-Service Tiki Bar: Get ready to feel like you're vacationing at a luxury resort in the Caribbean as you wake up and take the short walk to the pool at The Ponds. Spend hot summer days cooling off in the water, having a drink with friends at the full self-service tiki bar, soaking up the sun in a lounge chair or swimming a few laps to get your day started. When you're ready for a break, have a seat in our shaded seating area with a good book. However you define summertime relaxation, the outdoor pool complex at The Ponds offers it. The best part? This isn't vacation: this life in retirement!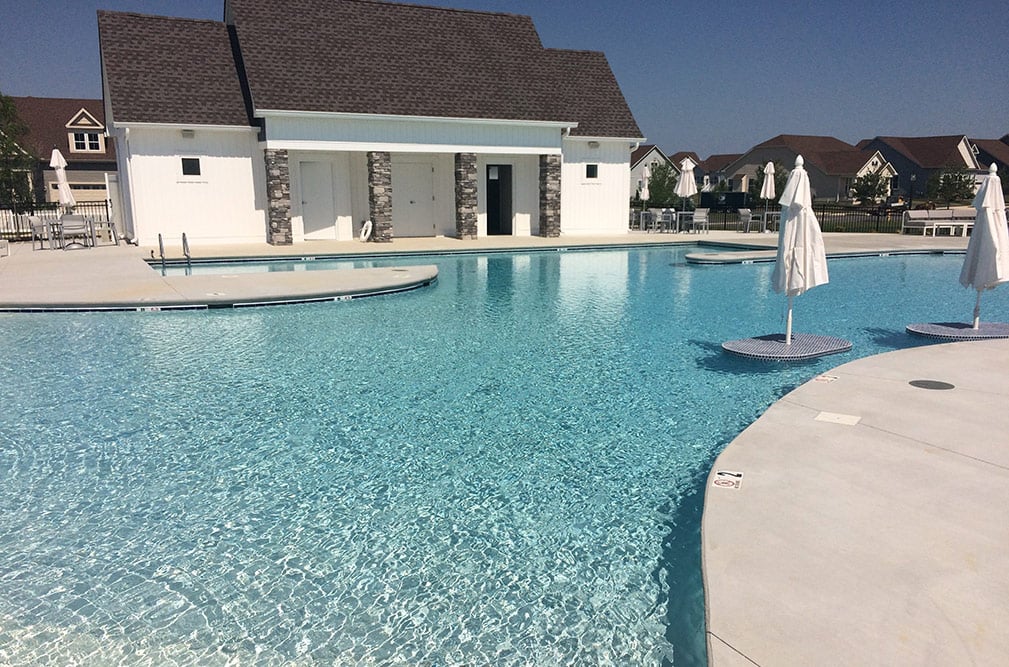 Patio Overlooking a Pool and Fountain: At Blenheim Homes, one of our core values is connection to nature. You'll see this value reflected in the designs of each of our communities, and a great example is the patio overlooking the expansive green spaces at the Ponds at Bayberry. This is the ideal space to enjoy fresh breezes and the tranquil sound of our fountain splashing into a wide pool, behind which stretch fields and hills studded with trees.
Fire Pit: Also at the clubhouse is an outdoor fire pit. Gather with friends to watch the famous blazing Middletown sunsets or share stories of family on a crisp fall evening.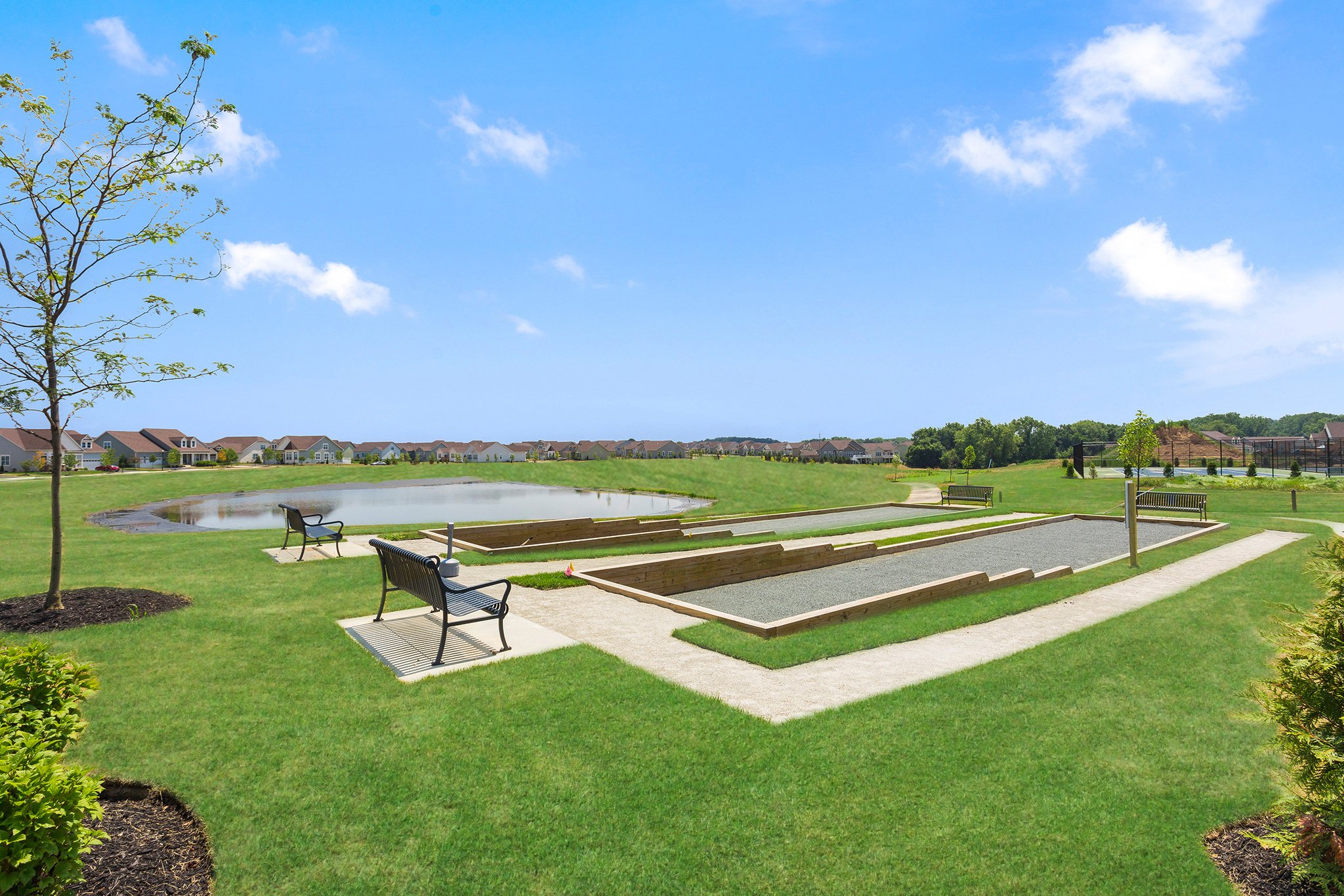 Athletic Courts: The clubhouse at The Ponds at Bayberry features multiple athletic courts for a variety of interests. From tennis and pickle ball courts to bocce ball courts and our multi-purpose court, you'll find your favorite activities both convenient and inviting, surrounded by well-maintained, gated, and beautifully landscaped fields and hedges.
Community Events
The Ponds is an active and vibrant community, and that's reflected in our full calendar of community events. With something planned almost every day, you can check in any time to find your favorite activities and bond with your neighbors who share similar interests. Perhaps you'll want to venture out and try something new, too! Our calendar is constantly refreshed and new clubs pop up all the time (you'll want to join our resident group after settlement for all of the latest info!) but some of our community's favorites include yoga classes at our fitness center, crocheting and knitting groups, canasta club and mah-jongg games, sunshine club meetings, Friday happy hours, day trips to nearby scenic areas, Bayberry Boys luncheons, Bayberry Ladies dinners, community committees, and so much more!
Aside from our ongoing events, the wonderful group of residents at The Ponds also hold special events to celebrate each season, such as a summer pool party, an ice cream social, an Oktoberfest celebration, a Halloween party, holiday parties and toy drives, a New Year's Eve party, and a Superbowl viewing party. With so many opportunities to form and foster friendships, this new chapter of your life at The Ponds at Bayberry promises to be full and rewarding!
So what are you waiting for? Schedule your in-person tour of the Clubhouse at The Ponds at Bayberry today!