Home is the most important and formative space in our lives. It sets the tone for our days and gives us a place entirely our own where we can repose from labor. Our homes are vital in helping us accomplish daily tasks while simultaneously reclaiming a sense of peace, tranquility, and creativity. But as this season of staying at home has taught us, a home is also so much more than a place where we begin and end each day - it's also a place full of potential. With a little creativity, and a little extra flex room, we can pursue our favorite activities and recreate indoors much of our daily routines that we typically form outside the home. Today we'll present a few simple ideas for using your home to its fullest potential!
1. Use a Den as a Home Office
Because we think of our home as a place of rest, it can be difficult to work from home when necessary unless we create a designated home office space. Depending on the nature of your work, you may want a quiet and private place that allows you to focus and use video conferencing. Oftentimes, this space can be found within the existing home layout, as in The Duke floor plan in the Meadows at Bayberry. This floor plan allows for the easy conversion of an 11 by 12-foot living room into a den that can be used as a home office. And don't worry - you'll still have a 14 by 17-foot family room available just off the kitchen, so you won't lose a central gathering space.
2. Use Your Sunroom as a Classroom or Homework Room
Just like adults, children need a designated space where they can focus on school, homework, and other special projects, and what better place to do this than the sunroom? Since the sunroom isn't a heavily trafficked area, it's easy to set up a desk or two and stay focused while enjoying outdoor views to stimulate creativity. (Parents, you may even be tempted to set up your home office in the sunroom as well!)
In the Kennedy floor plan in the Village of Bayberry, for example, you can add a sunroom measuring 10 by 17 feet behind the breakfast nook with the option of a patio beyond it. A sunroom or three-seasons room is a great way to invite more sunlight into your home while enjoying views of far-reaching vistas when you look up from your computer. Bright natural light is great for stimulating creativity, while the beauty of the meadows, trees, squirrels, and birds will inspire you.
3. Use Your Porch as a Workout Room
Exercise is one of the cornerstones of our routine, not only because it's fun, but also because it's essential to our physical, emotional, and mental wellbeing. During quarantine, many of us may have found ourselves missing our local gyms, but thankfully, there are a host of online resources for workout classes. Utilizing these classes and designating a particular area in the home as a workout room can give us the motivation to create a new and very satisfying workout routine.
Because screened in porches allow a fresh air stream, not to mention scenic outdoor views, they are a great place to set up a mini yoga studio, a weight room, or even just a mat and some free weights. If the weather permits, you can even move your routine outdoors and place your mat on the deck!
And at Westhampton, all lots back to private mature trees, perfect for backyard yoga action!
Westhampton has officially SOLD OUT as of September 2021 but a beautiful new and exciting community is coming to Hockessin soon.

Introducing: Valley Grove. Learn all about this new community and sign up for the interest list to receive the latest news and updates at the community logo above!
4. Use Your Rec Room as a Campground
If your home has a finished basement rec room, you're in luck - this is the perfect place to enjoy a mini family vacation! Set up a tent and some lawn chairs and take the kids "camping." You can even make hotdogs and s'mores, drink out of water bottles, set up sleeping bags, tell "fireside" stories, and use flashlights and headlamps when it gets dark to replicate the camping experience. The best part? No need to worry about inclement weather or forgetting to pack pillows and mats for your sleeping bags!
5. Use a Loft for Your Creative Outlet
What is it about a loft that takes us back to our childhood? Children want forts, and adults want getaways. If you've spent a long stretch of time at home, you may need to create a little getaway space that's all your own. Lofts offer us a fun and private place to relax with a favorite book or set up an art area where you can keep in-process projects out and out of the way rather than having to stow them away. Not only is this convenient, but it inspires you to pursue your creative endeavors because you won't lose sight of them behind a closet door or a dresser drawer!
6. Use a Spare Bedroom as a Play Room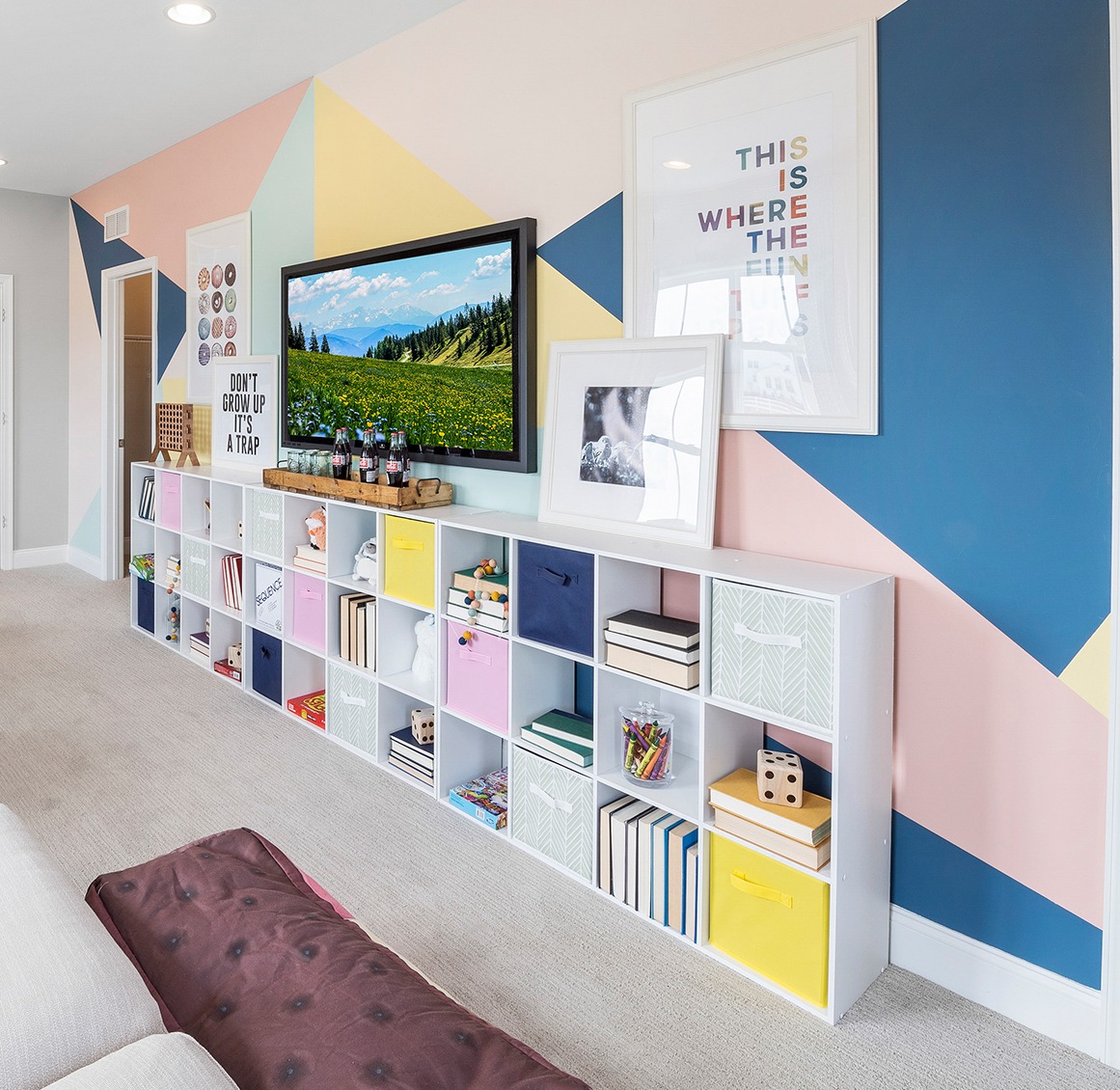 When spending time at home as a family, it's important to remember to give everyone their own space. When kids have a designated play area, like in the photo above of The Grant at The Village of Bayberry for example, they'll have their own area to exercise their imagination without you having to worry about cleaning up toys; likewise, you'll have space and privacy to cook dinner or just relax with a book on your own. Spare bedrooms can make excellent play rooms because they afford everyone enough visual and spatial privacy.
Many Blenheim homes, such as The Jamesport at Westhampton, enable you to create a customized extra living area in the basement with a bedroom and bathroom attached. Some of our other homes allow the addition of a first-floor bedroom off the garage to be used as a spare bedroom for guests or a multi-purpose room where kids can play.
Closing Thoughts
Whatever your needs, having a little extra space at home through additions like dens, sunrooms, porches, lofts, rec rooms, and extra bedrooms can allow you to accommodate a variety of needs while at home. All you need is some flex room and a little creativity, and your home can become the place where you pursue both work and leisure activities.