Whether we've postponed a trip to see family, delayed a graduation party, or canceled summer plans, the COVID-19 pandemic has put many of our future plans on hold. Luckily, building the home of your dreams does not have to be one of them. Read on for our top 3 reason that now is still a great time to start building your future.
1. Interest Rates are Great
Aside from the traditional considerations that come with determining whether it's the right time for you to buy or build, this season's realities introduce several new factors. For example, mortgage rates are currently close to record lows, and there's speculation that they may continue to stay low. One recent report stated that 30-year fixed rates were at 3.28%, down by 79 basis points year to date and down by 168 basis points since November 2018's peak of 4.94%. So whether you're buying or building a home, purchasing a home at this time could work in your favor when it comes to securing a great mortgage rate.
The surest way to get accurate information on current interest rates is to contact a lender. Another great resource to utilize in tandem with lender conversations is our mortgage calculator, which helps you see what your monthly principal and interest payments might look like.

2. Plenty of Time to Plan Your Build
Isn't it nice to hear someone say "you don't have to put all your plans on hold"? Building a home is one plan you can enact now. Since home builders are essential workers, many companies like Blenheim Homes are finding ways to safely continue the buying process through virtual means so that you don't have to wait until COVID-19 has fully concluded. Instead, you can start building your future immediately.
In fact, now is a great time to begin the buying process since you'll have the capacity to consider the many exciting customization options and selections that are part of the process. Take this time to explore what you like using interactive tools like our kitchen visualizer, which allow you to get a feel for your favorite selections and material combinations. (While the materials pictured in this kitchen visualizer don't represent our full and extensive offerings, they do show some of our more popular options for cabinets, countertops, backsplash tiling, and flooring.)
Building your own house during this time can be very mentally and emotionally rewarding. As the surge in trends toward creative ventures like sourdough bread baking during this time has shown us, we all need artistic and constructive outlets to stay healthy and happy. The creative joys of designing a home, picking materials, and visualizing how the completed customization selections will come together can all boost your health and energy as you quite literally build your future!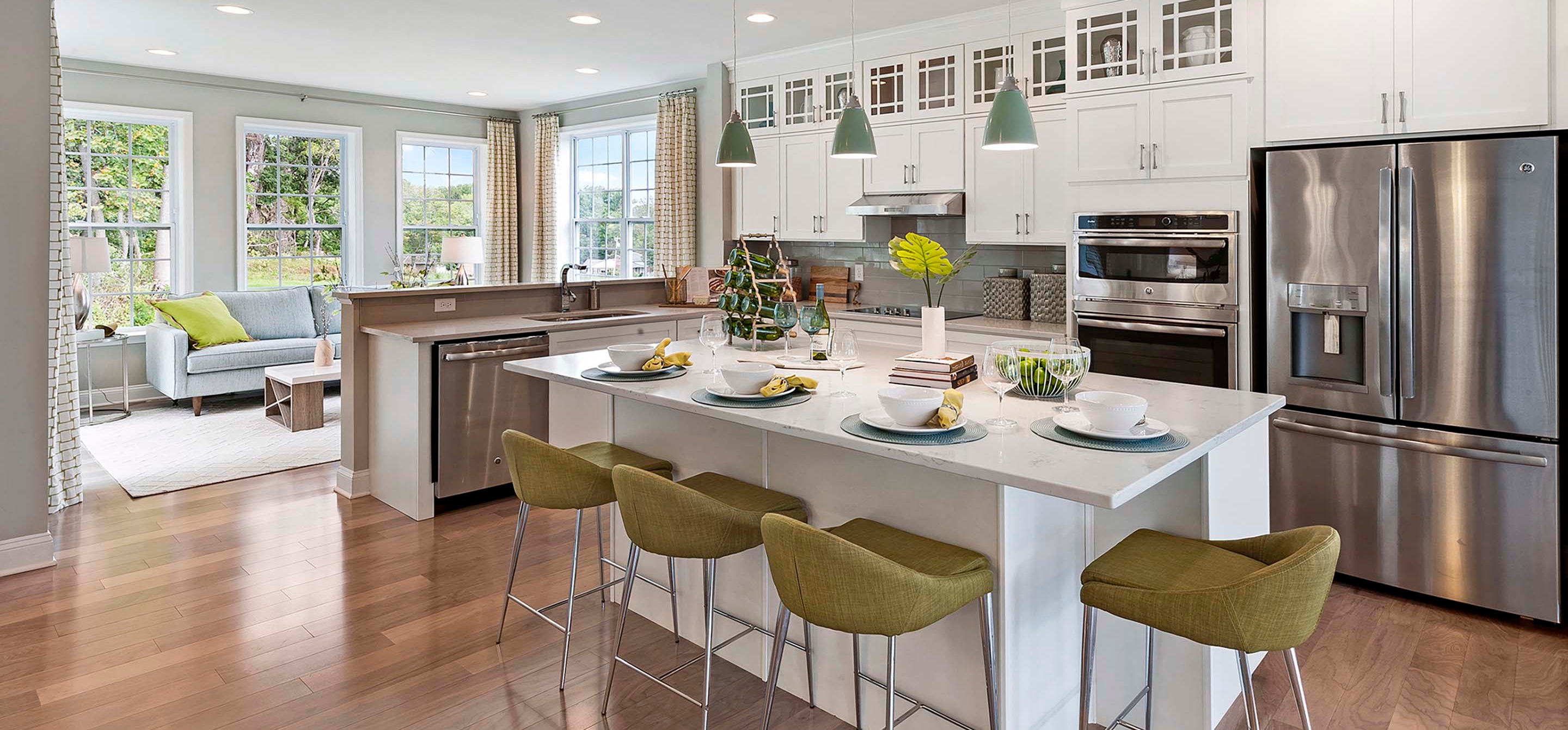 3. New Homes are Clean!
Another advantage to building a new home after COVID-19 is that new construction homes are clean. Constructed with new and high-end materials, new homes have the advantage of never having been lived in. You will be the first resident, allowing you to establish sanitation standards that would not be guaranteed if you were moving into someone else's space.
If time constraints have you considering buying an existing home, consider the option of a new construction quick delivery home. Quick Delivery homes are new construction homes where all of the selections, from flooring types to structural features, have already been made by a seasoned sales professional. This allows construction to begin even sooner, meaning that you can be in a brand new construction home faster than if you started the process from scratch.
And just like when building a new home, you'll be moving into a pristine, never-before-lived-in home with all new materials. But there are other ways in which your home purchasing experience will be clean as well.
The purchase process will also been clean, in that it will be smoother and simple transaction. Buying new means your contract won't be dependent on unpredictability on the seller side. If you're moving into a home that someone else is moving out of, multiple parties and contracts will be involved, meaning there's more opportunity for timelines to change or fall through completely.
Additionally, moving into a new home means that everything - from the landscaping to the finishes - is in perfect working order. You won't have to consider cleaning up an overgrown yard, repairing broken fixtures, or altering an outdated layout. Instead, everything will be newly constructed with high quality materials and practices, allowing you to focus on building your new life instead of rebuilding your home.
Start Now
As a recent Washington Post article reminds us, the basics of home buying haven't changed. If you find a home that's right for you and you're financially stable, buying a home might be a wise thing to do regardless of the current situation. As a rule of thumb, the article advises that if you're not planning on staying in your current home for more than five years, then you should look for a home where you can build value. And in new construction communities, home values are famous for appreciating quickly.
It's never too early to begin researching your next move and preparing your finances. Given the extra time in our schedules, the low interest rates for mortgages, the cleanliness of newly-constructed homes, and the joy of tangibly working toward an exciting future, now may be the best time to start planning your next move!
Check out our tried and true home building process, as well as our virtual buying process, which is a safe adaptation of what we know works well. Then, check out all our communities in Wilmington and MIddletown, including Westhampton, The Ponds at Bayberry, The Village of Bayberry, and The Meadows at Bayberry. From there, start selecting your favorite floorplans, remembering to check out all of our customization options. Remember, there's no time like the present to build your future!
Westhampton has officially SOLD OUT as of September 2021 but a beautiful new and exciting community is coming to Hockessin soon.

Introducing: Valley Grove. Learn all about this new community and sign up for the interest list to receive the latest news and updates at the community logo above!