The Village of Bayberry is an established family-oriented and amenity-rich community in Middletown, DE. The active social scene combined with amenities like walking and biking trails, age-appropriate playgrounds, large open spaces, and lake house on the banks of an 11-acre boating and fishing lake make The Village of Bayberry the ideal place to raise a family. Take a tour with us through The Grant: our impressive estate home and newest furnished model from our Presidential Series of homes at The Village of Bayberry.
Big Picture Specs
Five elevation options all offer plenty of windows, balanced symmetry and a grand front entrance that immediately greets you with grand curb appeal. A sweeping front porch, available on the Craftsman, Victorian Farmhouse and Colonial elevations, provides a shaded place where neighbors can chat in the warm summer months. Like all of our homes, The Grant's interior is designed for the modern buyer: open, airy, and filled with sunlight filtered through walls of windows.
With a dozen structural options available to make the space work for you, The Grant can measure anywhere from 3,532 - 5,142 square feet, and house 4 - 5 bedrooms and 3.5 - 5.5 bathrooms among its first floor, second floor and basement.
The First Floor
To cross the threshold is to immediately experience the wide-open space that is The Grant. The foyer is flanked by the formal living room (13 by 13 feet) and dining room (14 by 13 feet). Straight ahead you'll pass the staircases to the second story and basement to your left, followed by an 11 by 11-foot breakfast area that opens to a spacious 15 by 18-foot family room.
Neighboring this space is the heart of the Grant: the 17 by 17 foot kitchen featuring a large center island, double sink and bar seating, walls of cabinetry, walk-in pantry and hall that connects to the dining room for easy entertaining. The gem of this space is the two sets of double sliding doors that open to a sun-room, covered porch or other outdoor space of your choosing.
A half bath and a 2-car side entry garage complete the standard first floor plan.
Customization Options: There are several customization options for The Grant's first floor. You can opt to include a patio/covered porch measuring 11 by 16 feet or a sunroom measuring 10 by 15 feet; both additions are located at the back of the house directly behind the kitchen and open from the double sliding doors for a comprehensive indoor/outdoor space.
Change the location of the living room fireplace to optimize your space planning; add a bay window to the breakfast room, allowing you to invite the outside in as you enjoy your morning meal; extend the family room by 4 feet to make space for everyone.
Anticipating holiday or long-term guests? The first-floor can accommodate either a guest room (10 by 12 feet) with a full bathroom or a full in-law suite (230+ sq. ft.) off of the garage. This space can also be converted to a smaller den if you find the need for an office or other multi-use space. To get a full idea of first-floor options, including which are mutually exclusive, be sure to reference our interactive floor plan builder online.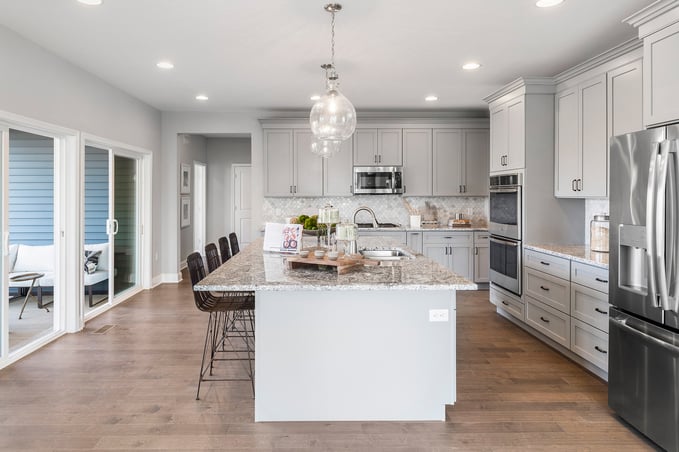 The Kitchen
The kitchen is planned for easy traffic flow, providing two full walls of upper and lower cabinets, as well as plenty of counter space for cooking and baking prep. There is a large island with a double sink, extra storage space, and barstool seating. Be sure to visit our kitchen visualizer page (which uses the Grant's sister plan, The Adams) to experiment with a number of backsplash, cabinetry, countertop, and flooring options. While the materials provided online are only a small sample of our wider selection, they will help you visualize together some of our more popular offerings.
Backsplash materials:

a variety of colors, textures, finishes, and patterns.

Cabinetry materials:

a variety of beautifully-colored and textured cabinets.

Countertop materials:

quartz and granite varieties.

Flooring materials:

hardwood, luxury vinyl plank, and tile.
Double sliding doors directly across from the island create a unique space in the kitchen. Arguably the standout feature of the first floor space in the Grant, this full wall of natural light truly allows you to bring the outdoors inside in a unique way, all year round.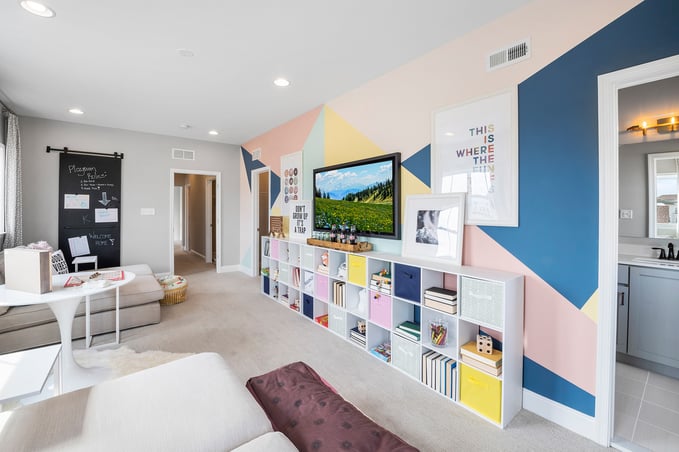 The Second Floor
Upstairs, a central hall anchors the space between the master suite, hall bath and three additional bedrooms. To the right are two identical bedrooms, both measuring 14 by 13 feet and each with spacious walk-in closets. Past these is the larger bedroom four, measuring 11 by 15 feet, also with a walk-in closet but also featuring its own princess bathroom.
The master suite in The Grant is a sight to behold. The bedroom space featuring two walk-in closets and measures 15 by 18 feet. A separate entrance to the laundry room, which is nestled between the hall bath and bedroom #4, can be added for access via the master bedroom hall as well. Down the hall and past the dual walk-in closets sits the spacious master bathroom: complete with water closet, dual sinks, a free standing soaker tub, and shower. Home buyers also have the option to extend the master bedroom toward the back of the house by an additional four feet, creating a lovely sitting area overlooking the back yard.
The Basement
While the completely unfinished space matches the near footprint of the first floor, offering plenty of storage space, there are several structural options for the basement. Finish this area as a rec room measuring 25 by 17 feet and added a powder or full bathroom as well. For those that need a slightly larger space for entertaining, a home theater or growing kids, a larger rec room of 25 by 33 feet is also available, again paired with a powder or full bath.
The Grant Buyer Profile
Which home buyers gravitate toward The Grant? This floor plan was designed with a variety of home owners in mind, but it is particularly suited for growing families. The open floor plan is perfect for keeping an eye on children while cooking dinner, the kitchen barstools area great spot for kids to complete homework, and the breakfast area nearby is perfect for casual breakfasts. The Grant is a great home for those who love to entertain, with wide-open first floor for small occasions gathered around the kitchen island or more formal affairs where you might need to serve from the kitchen to dining space.
Another group that The Grant lends itself to are those that require a home office. Select a den option or close off the front living room with double doors to create a work space for full-time, occasional use or as a study area for older children. For those with extended family, the option for an in-law suite is a great addition for aging family members who need to live nearby but still wish to live independently.
Ready to take the next step and learn more about The Grant? Contact our sales team at The Village of Bayberry today!
📱 (302) 376-7400 | info@bayberryhomes.com
📍 1532 E. Matisse Drive Middletown, DE 19709
📍 GPS: 1015 Boyds Corner Road Middletown, DE 19709